History
Affinity Energy Management was founded by Ed Jackson in 2006 in Wilmington, DE shortly after electricity and natural gas became deregulated in DE. Ed is still the managing principal today and has expanded the business throughout the United States as many other states have become deregulated since founding the company.
Goals
Educating our clients
Understanding our client's energy and sustainability goals
Forming trusting and long-term relationships
Maximizing energy procurement and efficiency strategies
Maximizing our customers' energy cost savings
Studying evolving energy markets to keep our clients informed
Strategies
No customer is the same – evaluate each customer's energy usage and provide them options based on what is best for them. We offer fixed, variable, and even hybrid energy options depending on each unique customer's needs.
Mitigate risk by educating our clients on current energy market trends and utility tariff changes.
Provide customers budget certainty based on their historical and forecasted energy usage.
Review and negotiate supplier terms and conditions to mitigate risks and avoid potential hidden charges.
Identify potential sales tax exemptions as well as utility tariff rates and riders to achieve additional cost savings.
Areas We Serve
Primarily customers located in the mid-Atlantic with our services extending to deregulated states across the country. Maps below show all states where electricity and natural gas are deregulated.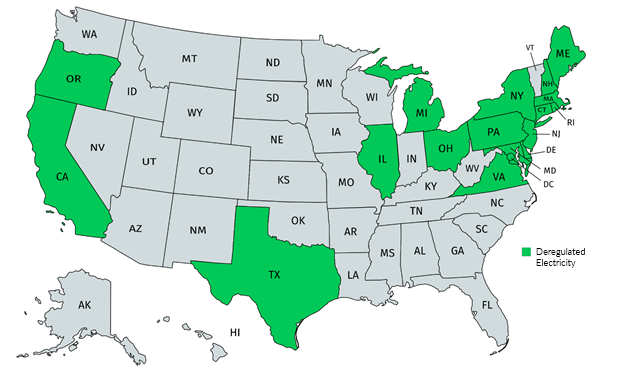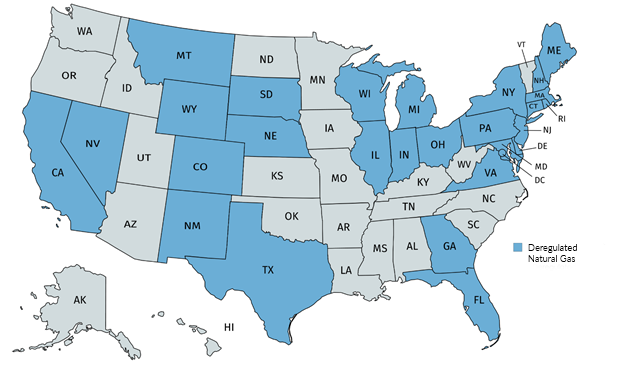 Trade Associations & Chambers
Bethany-Fenwick Chamber
Building Owners and Managers Association
Central Delaware Chamber
Commercial Industrial Realty Council
The Committee of 100
Delaware Apartment Association
Delaware Association of Professional Engineers
Delaware Energy Users Group
Delaware Energy and Sustainability Leaders
Delaware Energy Services Coalition
Delmarva Poultry Industry
Delaware Restaurant Association
Delaware State Chamber
Greater Georgetown Chamber
Greater Kent Committee
Greater Philadelphia Association of Energy Engineers
International Facility Management Association
Millsboro Chamber
New Castle County Chamber
Rehoboth-Dewey Chamber
Southern Chester County Chamber